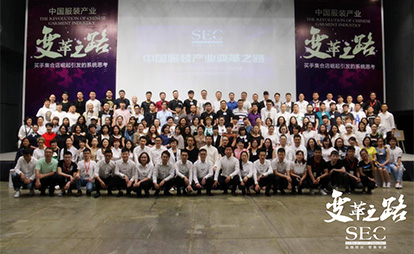 Beijing System of Expert Consultancy(SEC) Network Technology Co., Ltd, an Internet vocational education enterprise focusing on professional training and consulting services in retail industry, mainly provides apparel enterprises with retail marketing management, business model, marketing strategy and retail brand planning as well as capital operation training and consulting services. With a wide range of brand influence and popularity in the apparel industry, the SEC is a leading enterprise in China's retail industry training market. With the advent of the "Internet+" era, the SEC has created retail training O2O Service mode in Chinese apparel industry, that is, relies on professional instructor team and the country's landing service center offline, while online is supports by the platforms of "China Retail Training network"(www.sec1999.com), and the company's WeChat public number so as to help enterprise cultivate retail talents and bring advanced retail terminal management concept and marketing management mode for customers, constantly creating value for them.
Zhu Wenxin, the founder of the SEC, is a well-known sales management expert in China's apparel industry and retail industry, an apparel industry consultant in China chain management association, also a senior consultant of Alibaba garment industry. Owing to Mr. Zhu and his team's engagement in professional training and consultancy work in the retail industry since 1999, they have extensive experience in the industry and have a deep understanding of the operation of the retail industry, especially of the clothing industry. Moreover, they are committed to introducing advanced retail terminal management concepts and marketing management models both at home and abroad to China's retail industry.
In May 2015, the GROUP invested in the Beijing System of Expert Consultancy Network Technology Co., Ltd. In February 2016, the SEC successful listed at new third board.